Get started
It is both fast and easy to get started with your Sailserver, even without any technical skills. Often it is just a matter of connecting the Sailserver to a free connector in you boat with the cable that came with the Sailserver.
Sailserver can be connected to most boat instruments, both new and old. Data from the boat instruments will also be saved in the logbook.
If you choos not to connect Sailserver to the boat instruments, Sailserver will use it's internal GPS and still make the logbook.
Read more about installation of Sailserver here:
Create an account
Please choose LOGIN from the menu in the top to create an account, and then follow the instructions on the screen.
After you have logged in Sailserver has to be linked to you boat. Detailed instructions can be found under 'Installation' above here.
After you have created your account you can also use our Sailserver app for Android or iOS.
Learn more about Sailserver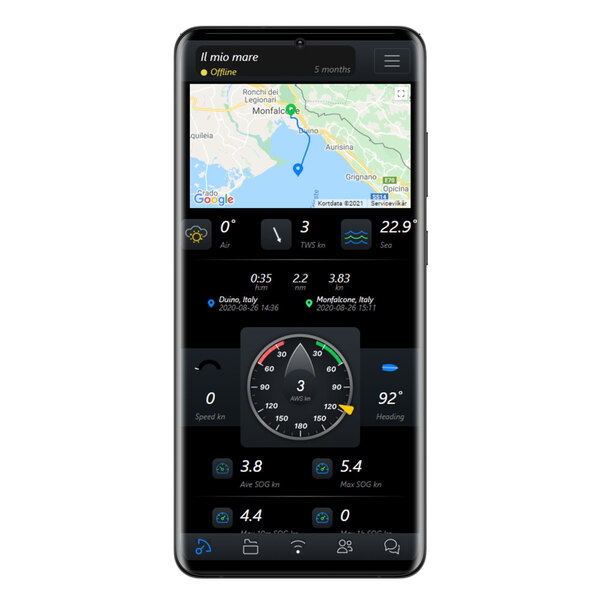 When you login as a user on Sailserver, either from a webbrowser or your mobile you will see the dashboard.
At the top of the page you will find a menu icon that gives access to user profile, weather and your boats data.
At the buttom of the page you will find 5 icons that gives acces to the most used pages.
Dashboard
Overview of the actual data from the boat instruments and weather. It will show on the map where you are sailing, and if the boat is moored it will show the last track sailed.
Logbook
Page with all tracks sailed with totals and average sorted in an easy accessible calendar. You can search for a specific track, se details or add your personal comments to a track.
Anchor watch
The anchor watch will keep an eye on your boat. When activated you will get a notification on you mobile, an email and optionally an SMS when your boat drifts, water depth changes or the weather conditions changes.
Friends
On this page you can search for other boats that has a Sailserver installed. You can request friendship with other sailors or just 'follow' a boat. You choose what other users can see about your boat or if they can search for you or your boat.
Clubhouse
When you enter the virtual clubhouse you can see other boats near you and they can see your boat. Your boat is only visible as long as you are in the clubhouse. If you are in the clubhouse it is too meet other sailors.