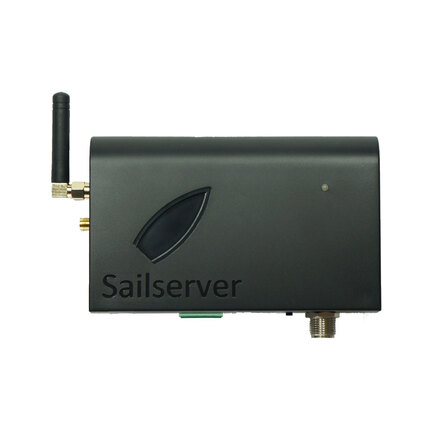 Sailserver
€ 319,20
€ 271,20
Sailserver including SIM card that covers over 100 countries in the world.

No binding and no subscription.
Including 1m NMEA2000 cable.

Description
Specifications
In the box
Sailserver has a build-in GPS receiver, and as soon as it is powered up it will start logging position, speed and course.
Connect Sailserver to the boat instruments and it can also log data given from the instruments.

Sailserver can be connected to modern instruments with NMEA 2000, or classic instruments with NMEA 0183 or SeaTalk interface.
All the data is saved in the Sailserver, and as soon as it is connected to the Internet, it will send all the logged data to sailserver.com.

Sailserver can be connected to the Internet, either via the built in 3G modem (requires SIM card), or via Ethernet to an onboard router with Internet access, or via BlueTooth to a Smartphone with Internet access (Sailserver App under development).
Log into sailserver.com and register your Sailserver. Now you can view all your sailing trips with details online, share it with your friends or even monitor your boat when you are on shore.

Physical Specifications
Dimensions: 130 x 80 x 29mm
Weight: 140g
Electrical Specifications
Voltage: 7-17V
Max Power: 1.5W
Typical Power: 1.1W, 90mA at 12V
GPS
Yes with internal antenna
Boat instrument Interfaces
NMEA 2000
NMEA 0183 (1 RS485 input)
SeaTalk
Internet Interfaces
Mobile network with SIM card
Ethernet
Bluetooth to Smart phone
Antenna Interfaces
SMA connect for Mobile network
SMA for extenal GPS antenna
Data log
60MB, Up to 50 days of 24 hours sailing
Sailserver
Antenna to mobile network (GSM)
1m NMEA 2000 cable
Welcome letter (short form guide)