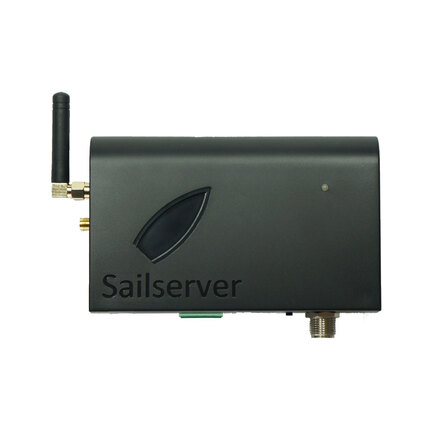 Sailserver
€ 319,20
Sailserver keeps an automatic logbook each time you head out to sail. The logbook is stored on the cloud and is always both up to date and available. Sailserver can be connected to instruments on board your boat in order to log data from these instruments as well. It monitors your boat when you are at anchor or when you are in port so you can go carefree ashore. You can look back over the details of your trips and recall them to memory using our free app or your web browser. You can choose to share your logbook with family and friends so they can follow your trips as you sail. And if you want to meet others while in port, you can do so by logging in to the virtual clubhouse.

Description
Specifications
In the box
Sailserver is for sailing aficionados who want to get the most out of their time on the seas.
Sailserver lets you really feel the wind in your sails – even when you are on dry land – as you fondly remember your trips and all the adventures you had along the way.
Whether you are off on a sailing trip, taking part in a race or sailing a motorboat, Sailserver will keep a detailed logbook every time you go out to sail – entirely automatically.
Sailserver can be easily connected to other equipment on your boat. Connecting Sailserver to the other instruments on your boat will give you a more detailed logbook, but you are also free to simply use it on its own, without connecting it to anything else.
The device uploads data via the Internet to your Sailserver account which you can access from your computer or via our free app for your smart phone. If you sail in an area without mobile coverage, Sailserver will continue to update the logbook. The logbook is then updated automatically when your connection to the Internet is restored.
Can record data from other instruments on your boat
Sailserver is designed to be functional and easy to access. It can be easily connected to the instruments on your boat for an even more detailed logbook. This could be speed through the water, heeling of the boat, wind data, water temperature, water depth, fuel consumption and much more. What it logs will depend on what instruments you connect it to, but you are also free to simply use it on its own, without connecting it to anything else. Sailserver easily connects to other instruments with NMEA 2000 via the cable which comes included and can also be connected to other instruments with SeaTalk 1 or MNEA 0183.
Monitors your boat
A completely unique function on Sailserver is that it monitors your boat and notifies you if the conditions in and around it begin to change when you are not on board. The Anchor Watch function will send a notification to your phone if the boat begins to move, if the wind picks up or if the water level goes above or below established depths. This means you won't need to worry about how your boat is doing when you are not on board. Simply enjoy being on dry land, secure in the knowledge that you will be informed should anything go wrong. And when your boat is in port back home, you won't need to worry unnecessarily about any changes in the weather either. Simply check your phone in order to see exactly what the instruments on your boat are showing.
Sailserver is easy to install and does not require a subscription
Sailserver is easy to install and begins logging your sailing trips and weather conditions just as soon as the power is turned on.
Sailserver has a built-in GPS and Internet connection which does not require a subscription as it is fitted with a SIM card which provides mobile Internet coverage for at least ten years across most of the world. Sailserver is updated automatically over the Internet with all of the latest features.
Family and friends can follow your trip
You can send a link to your family and friends at home so that they can follow your trip as you sail. Then can also choose to set up a free account on sailserver.com and send you a friend request. That way they will be able to see when you have gone ashore, if the weather has been calm or challenging and how far along you have come on your journey. Your privacy is our top concern which is why you are the only person who is able to access your data, unless you actively choose to share them with others. This means you can use Sailserver on an entirely private basis in order to look back on and remember your trips, without others being able to follow you or access your data.
Virtual clubhouse when you are in port
Sailserver not also brings you closer to those following your trip from back home, but it also gives you the opportunity to make new acquaintances as well. By checking into the virtual clubhouse when at port, you can see who else is checked in and thus signalling that they are interested in meeting other sailing enthusiasts. You can see where other boats are located and you will be able to see where your boat is located as well. The virtual clubhouse is a way to meet other sailors and to make new sailor friends. When you leave the clubhouse, your boat will no longer be visible.
Sailserver includes:
Automatic and detailed logbook for your boat
Logging of routes, heeling of your boat, wind data, water temperature, water depth and much more when you connect to the other instruments on your boat
Monitoring your boat when it is at anchor or in port
Opportunity for friends and family to follow your trip
An ideal partner for long-distance sailing
Opportunity to relive a race in detail
SIM card which covers over 100 countries including all of Europe
Free subscription
Easy installation
Can connect to other instruments on your boat
Virtual clubhouse where you can find others at the same port who want to meet up with other sailing enthusiasts
Free app which works on IOS, Android and web browsers
No additional costs
Physical Specifications
Dimensions: 130 x 80 x 29mm
Weight: 140g
Electrical Specifications
Voltage: 7-17V
Max Power: 1.5W
Typical Power: 1.1W, 90mA at 12V
GPS
Yes with internal antenna
Boat instrument Interfaces
NMEA 2000
NMEA 0183 (1 RS485 input)
SeaTalk
Internet Interfaces
Mobile network with SIM card
Ethernet
Bluetooth to Smart phone
Antenna Interfaces
SMA connect for Mobile network
SMA for extenal GPS antenna
Data log
60MB, Up to 50 days of 24 hours sailing
Sailserver
Antenna to mobile network (GSM)
1m NMEA 2000 cable
Welcome letter (short form guide)